One of the most important highlight of any wedding is the sight of the cake. This is why couples usually like to go out of their way to make their wedding cake beautiful. Interestingly, choosing a wedding cake is never an easy task because there are just so many to choose from. But if you are one to keep up with latest trends, getting wedding cake ideas won't be so much of a problem – and that is why we have carefully selected some top wedding cake trends making the rounds in 2016. 
I need to quickly sound a note of warning; you are going to be spoilt for choice in the wedding cake ideas we are offering here. Never worry so much, we will make every choice worth your while, so that at the end – whichever wedding cake idea you go for – you are happy with that choice.
Just about anything can inspire your wedding cake idea. It could be the colour serving as your wedding theme; could be something mutual from your childhood; could be the number of kids you want to have; could also be something you saw in the movies. Whatever choice you make, it requires creativity to accentuate the beauty of the overall plan of your wedding scenery.
So what we will be doing is helping you find some inspiration for your wedding cake, pulling from wedding cake ideas and trends from different parts of the world, and the rest is up to your baker!
Are you ready for some sumptuous wedding cake trends? Ok, then…here we go. Trust me, these wedding cake ideas will blow your mind!
---
METALLIC CAKES
Metallics are big for stationery, and for wedding cakes as well. The best part about metallics? They can adapt to any style; delicate embroidery in gold feels opulent while geometric shapes give off a fresh, modern feel. If an entire tier is too much glitz for you, consider adding a little sparkle all over. Fine edible glitter can add a decorative sheen to your cake without overpowering the whole design.
CAKES THAT REFLECT A COUPLE'S PERSONALITY
This is some nice creativity, you will agree with me. It apparently tells much about the bride in terms of the shape and structure, and I can easily guess the grooms personality exudes in the writing. According to Jessica Lauren Cakes, more and more brides are wanting this kind of cakes.
RUFFLED CAKES 
This is a wedding cake idea all the way from Alexandria, Virginia. It is the type of design inspired by the elegance of the couple. For a seriously elegant look, skip the bold patterns and add-ons in favor of subtle embellishments with allover sugar ruffles. The look is light and airy and needs very little added detail. Finish it off with fresh flowers in between each tier or a few sugar flowers on top.
A TRIP BACK TO THE 50s
There are so many modern brides out there, but we can't rule out the possibility of many brides-to-be who would love the idea of having a wedding that goes back in time and digs up some beautiful and elegant memory. This is ideal for couples who have been married and are renewing their vows, or for couples whose family history goes back in time.  For whatever reason you are inspired by this, a 1950s looking cake, like this incredibly beautiful design by the Little Venice Cake Company, is one wedding cake idea which is already making waves this year, and one you can adopt too.
NAKED CAKES
Do you know you can ditch all the icing and just go naked? Well, this is one beautiful and creative idea I recently stumbled on. With the deconstructed cake, you get to show off the inside. For a summertime wedding, berries work well; in fall, you can ask your baker to fill the layers with seasonal fruits, like apples, pears, and others.
STORY TELLING CAKES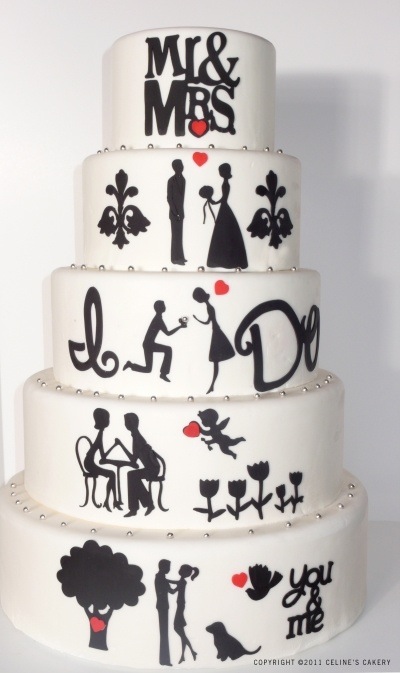 If you and your groom have a particularly romantic engagement story, this can be reflected on your wedding cake like the one above. Really cute, isn't it?
WEDDING CAKE TABLE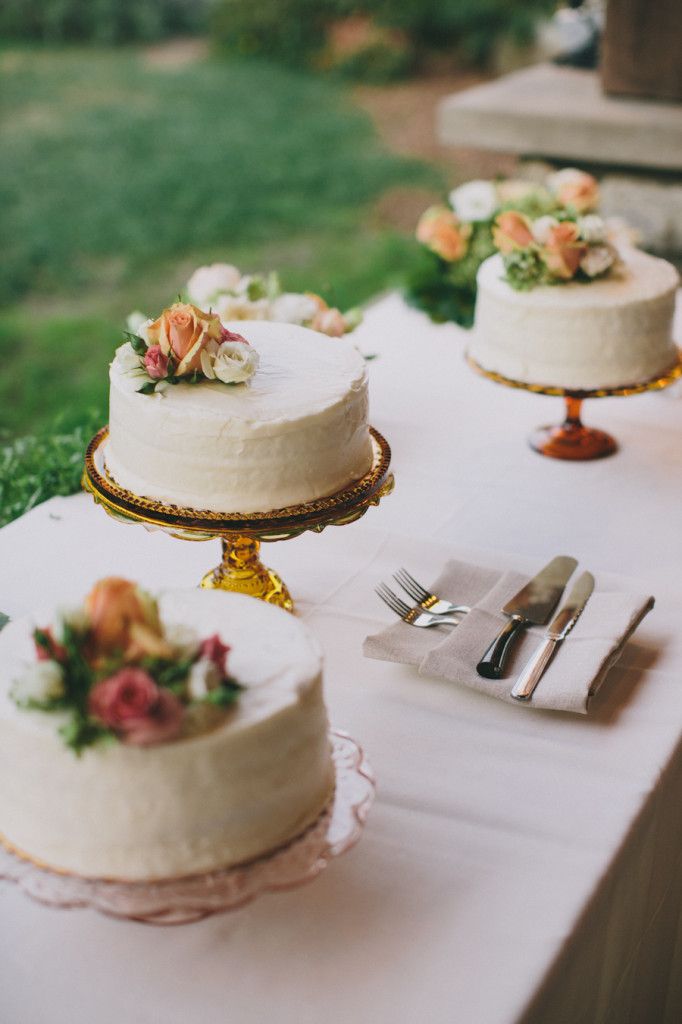 Instead of having one large cake, offer your guests different cake styles and flavors in the form of a cakes table. You should really try this. I'm thinking about it already. This is looking like my pick of all the wedding cake ideas offered thus far. lol. Different flavours?…I can't get enough!
PAINTED WEDDING CAKES 
Take a cue from what many invitation designers are doing and ask your cake baker to get a little artsy with your cake design. We're talking marbleized cakes, stained-glass painted cakes and even Monet-inspired wedding cake designs. Pair those hand-painted tiers with solid-colored layers or even simple flower accents. Quick tip: For a cake design that's so intricate, keep the tiers simple and stick to all one shape (either all classic round tiers or all square).
LACE CAKES
Ever since the Duchess of Cambridge wowed the world in her lace Alexander McQueen wedding gown, lace has been a popular choice when it comes to all aspects of a bride's wedding reception, including the cake. This stunning Sophelia design is by The Abigail Bloom Cake Company.
THE OMBRE STYLE
Having your cake colors take on an ombre effect is another artful cake design idea. It can be as whimsical or glamorous as you like. Blend yellow to orange sugar hearts for a graphic, modern style; or go red to pink to light pink with cascading sugar-made flower petals. "Whether you're drawn to a rich saturated hue that transitions to a mid-tone or a barely there tint that fades to white, the possibilities are endless," says Maggie Austin of Maggie Austin Cake in Alexandria, Virginia. On the fence about the trend? "Consider an ivory ombré for a classic look that's both subtle and stunning," Austin suggests.
Here we are…
We have offered you TEN of the most fascinating wedding cake ideas we could scout for. You can check for more HERE. Just make sure you are not getting more confused at every new design you find. Pick one that perfectly defines your wedding style and leaves your guest reminiscing long after the wedding is over.
Cheers.
Meet new people, make new friends, party, have fun, and network at the Lagos Hangout 2018.
Click the image below to register now!
To feature your story on this blog, send us a mail at glowvillenet@gmail.com. You can also use the 'Share Your Story' button on the menu of this blog. Thank you.
Do you like this blog and would love to keep getting our latest posts via WhatsApp? Great! Subscribe to our

WhatsApp List here.

Thank you!