There are some things you just don't do at weddings. Dress so fierce you upstage the bride, throw a fit about not being served shots at the open bar, dance inappropriately with older guests, oh, and you definitely do NOT get engaged – that's, like, rule number one!
But while you might think it'd be common sense to not get engaged at somebody else's wedding, and completely upstage the bride and groom on their special day, it turns out there are people out there who believe they are an exception to the UNBREAKABLE rule.
A photo shared to Imgur shows one bridesmaid's fella getting down on one knee and proposing to his girlfriend during her pal's big day (totally inexcusable if you ask us). Not only did he propose, he also chose to do it right in front of the newly-weds' top table as the rest of their guests looked on.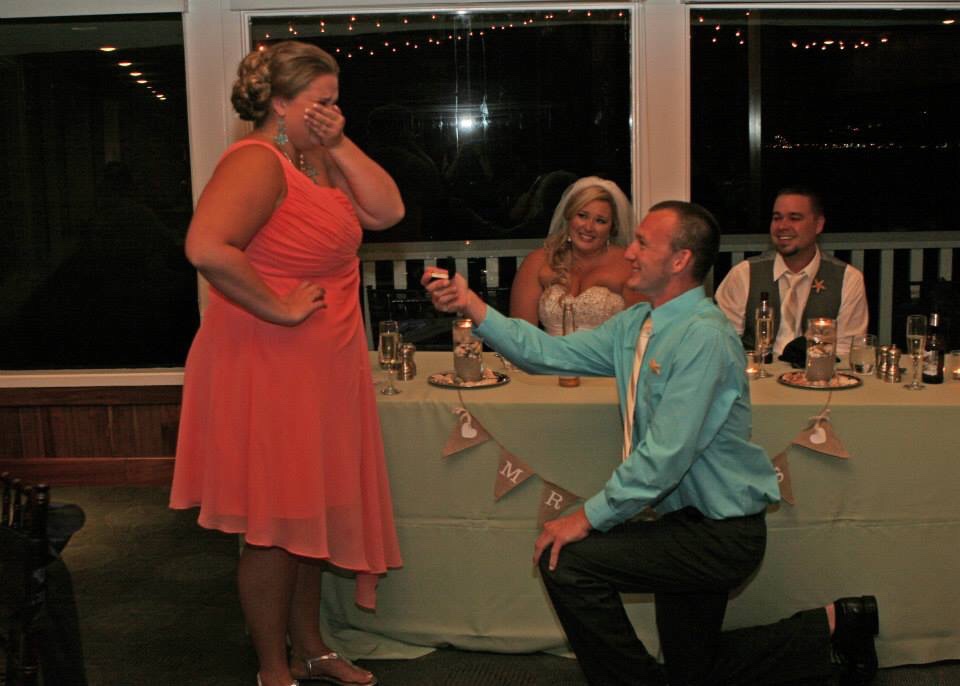 The bride and groom are both smiling in the picture, though you can tell the bride is definitely fuming on the inside, as she should be! You spend thousands on your special day, a beautiful gown, an open bar, and when people look back on your special day they'll say, "Oh, that was the day so and so got engaged, wasn't it." Annoying!
The controversial move has certainly got the internet in uproar and has actually brought back a lot of sore memories for many. "This is up there with my uncle giving my cousins a puppy at my birthday party," reminisced one person commented. "They've got one day which is all about them, you jerk," wrote another.
The photo even prompted one Reddit user to recall the same thing happening on her big day. She recollected how one guest wanted to make a speech, though it wasn't what they were expecting at all. "He got down on one knee and asked his girlfriend to marry him. She said yes. I played it off and offered them a round of applause. We all cheered but it derailed the evening for sure. By the way, they aren't even together anymore. Never even got married," they said.
Not cool.
Meet new people, make new friends, party, have fun, and network at the Lagos Hangout 2018.
Click the image below to register now!
To feature your story on this blog, send us a mail at glowvillenet@gmail.com. You can also use the 'Share Your Story' button on the menu of this blog. Thank you.
Do you like this blog and would love to keep getting our latest posts via WhatsApp? Great! Subscribe to our

WhatsApp List here.

Thank you!